Caravan storage Adelaide from $105 per month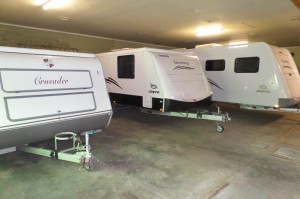 Free up space in your carport and store your caravan during the times you're not on the road. Size is not an issue with Hills Secure Storage. Our sheds are 100m x 14m, 60m x 14m and 40m x 40m. We have the best caravan storage facilities in the Adelaide Hills.
If you're caravan is going to be stored with us long term, feel free to drop by and take advantage of our high pressure hose and power facilities. Before you intend to take your caravan on its next trip, arrange a time to visit the premise to use our shed power facilities.
Affordable, Caravan Self Storage
Your caravan will be safely stored, always at the ready for you to attach to your car and drive away. Closed circuit television (CCTV) surveillance ensures security and storage facility protects from sun damage, weather extremes and intruders.
Just a phone call from you is all we need to have your vehicle taken out of storage and parked ready for your pleasure.
Store your caravan or motorhome with us when you're not travelling
Pop-top, compact or expandable, we have the capacity to store it safely. Our caravan storage facilities has the following measures in place:
Concrete flooring
Insulated by bricks
Monitored security
When you first bring your caravan or vehicle in, it will remain in the same space as originally allocated. We do not move any vehicle, caravan, trailer, boat or furniture during the storage period.
We store all of the goods in a way that any item can be removed easily without disruption to neighboring items.